Rihanna's hot hairstyles have attracted attention for years.  Whether she wears it long or short her hair always looks great!
Here is a look at some of her most famous looks:
Long Rihanna Hairstyles
Her dark locks are a radical change! She's dyed her previously blonde hair black, and shaved the left side of her head–creating a bold new look that just might be right for you too.  Her long, over-the shoulder mane looks sexy and feminine, while the shorter part gives the look a whole lot of attitude.  It takes confidence to pull off this edgy style but the result will be worth it!
Here she is with her previous blonde locks ….
The long black hairstyle flatters Rihanna's oval face, emphasizing her cheeks and jawline. It also looks fabulous with oblong, diamond or square face shapes. Although Rihanna wears her hair long here, the style works with any over-the-shoulder length.
The stylist creates this long, asymmetrical cut by cutting the bottom with scissors and creating long layers throughout. Finally, the stylist shaves a small area above the left ear. Styling is a breeze for this versatile haircut–apply volumizing mousse to the roots, and blow hair dry. After setting in large rollers, finish the style by applying hairspray.
For maintenance of the longer layers, be sure to visit your hairstylist every 4-6 weeks–more often if you want your stylist to maintain the buzzed part. Otherwise, bring out the shaver and try it at home, although you might want to enlist a friend to help out!
Short Rihanna Haircuts
Here is Rihanna with a blonde emo ….
… and here she is in one of our favorite short styles …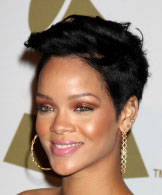 Red Haired Rihanna
Rihanna can rock every color.  This red brings out her best features.
If you are looking for a sexy style that's tough yet feminine, Rihanna's hairstyles are great to consider.  She brings a mixture of edge and class to every haircut she wears!
Related Posts
Medium Haircuts