Layered cuts can give your hair the pizazz you are looking for, whether you want a dramatic change, such as a whole new style, or something a bit more subtle, like thinning out mega thick hair.
Short layered hair will give the illusion of thicker, fuller hair. Use these tips to find the right style for you.
A short shag works best with hair that is not super thick or fine.   Thicker hair looks best with a longer shag.
A layered or wavy bob looks great on medium to fine hair.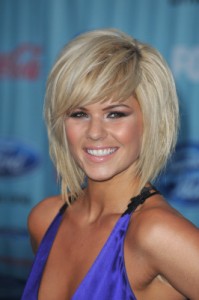 Kimberly Caldwell with a layered haircut
Paneled cuts – which are like medium shag cuts except he longest layers at the top of the hair instead of the bottom – work best with fine hair and should be no longer than shoulder length.  The paneled cut is not recommended for those with thick hair.
A pixie haircut works beautifully with any type of hair.
An asymmetrical layered cut looks fabulous on medium to thick hair.
To create layers your stylist will cut your hair into varying lengths by using shears or a razor comb. The amount and lengths of layers will depend on the texture of your hair and the style you are going for. Layering your hair makes it so easy to style. Use a deep conditioner once a week to avoid split ends, and go for trims every four to six weeks to maintain your look.
The most important thing about layered haircuts is to choose a style that fits your personality and have fun with it!
Related Posts
Medium Length Haircuts